Are Edibles or Vapes Better for Me?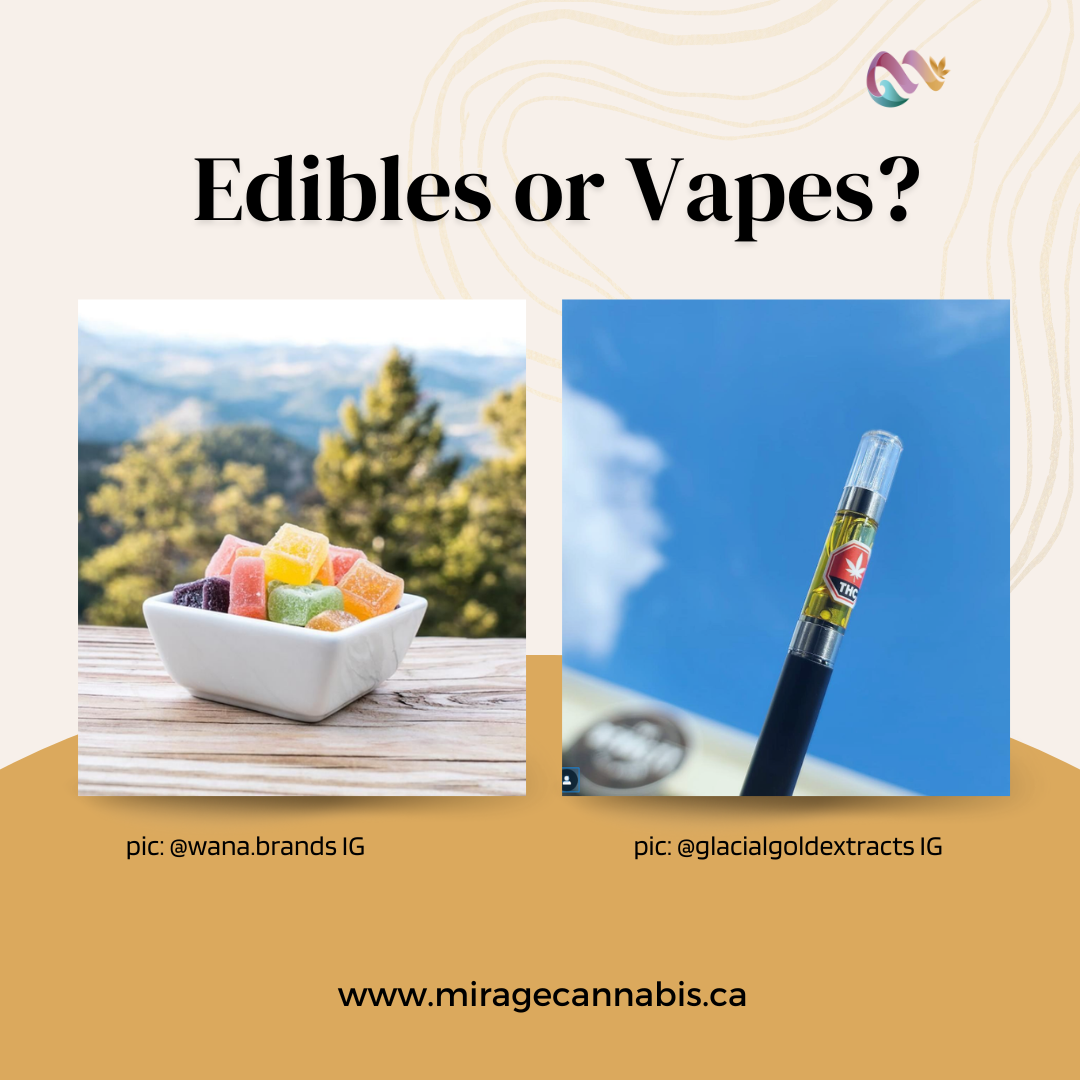 Are you wondering what method of consumption is best to enjoy cannabis recreationally? Mirage, your friendly local cannabis dispensary is here to guide you every step of your decision making process!
Edibles
We carry many different kinds of cannabis edibles: gummies, chocolates, brownies, and cookies (and don't forget beverages!). There are edibles with only THC (the compound in cannabis or cannabinoid which gets you high) and there are edibles only CBD (the cannabinoid which helps with relaxation, but has no psychologically intoxicating effects). Of course, there are edibles with both CBD and THC, as well as other cannabinoids such as CBG and CBN. To make your decision, just think about what are your desired effects! Do you want to feel high? Do you just want to relax? Maybe you want to consume cannabis only at night for extra peacefulness? No worries, we will help you find the perfect cannabis products for your needs.
Cannabinoids (THC and CBD) in edibles are absorbed through your digestive system. This means the products will need 30 minutes up to 2 hours before you can feel any effects. Some gummies have a "quick" formula so they can be felt even within 15-20 minutes! The effects may last up to 4 hours, so you should wait before consuming more, if you are new to the experience.
If you don't mind waiting and you enjoy trying amazing new flavors, then edibles are a great choice!


Vapes
Vaporizes use a thin pen-like battery called a 510 Thread Battery to heat up cartridges which can come in many different flavours. The cartridges contain cannabis distillates or oils which can have a lot of THC, low THC, or a balance of THC and CBD.
Vapes are very easy to use as you just inhale the cartridge attached to the battery and a smokeless vapor enters your lungs, then your blood and your brain to bring on those much desired effects. The onset is almost instantaneous! This is one of the benefits of vapes over edibles, however the duration will also be shorter than edibles. The experience will be easier to control as you can feel the effects right away, but you should always wait 30 minutes to one hour before re-dosing to enjoy your experience fully.


Do you have any more questions?
Give us a call (416-424-2292), an email (info@mirageorganics.ca), or message us on social media (@miragestoreTO)! We are always happy to support you in your recreational cannabis experience!