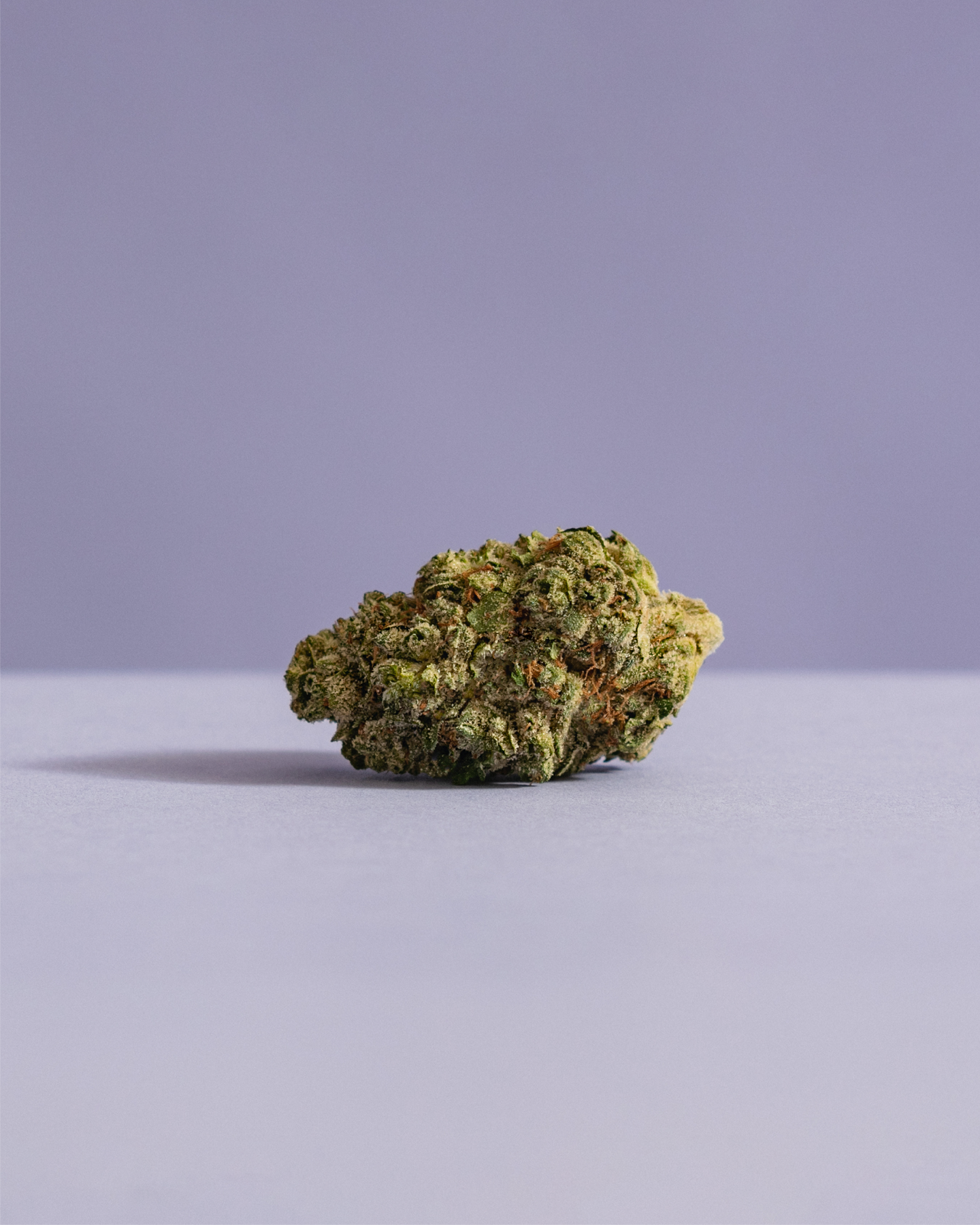 Not all flowers are the same. If you've ever smoked or vaped dried flower and not felt the effects you wanted, then that strain was probably not for you. Yes, other factors could have played a role such as your state of mind/body at the moment of consumption and the surroundings. For the most part, everyone who is willing and open to smoke or vape dried cannabis, is able to find the right strains that will give them the experiences they are seeking. Experimentation is key!
When selecting dried cannabis, please disregard labels such as "Indica" and "Sativa." These categories are shown by scientific research to not affect the consumer's experience. What will affect you are the cannabinoids such as CBD, THC, and terpenes (flavour, aroma). Trust us! But if you don't then check out our other blog post about indica/sativa here.
Here are Mirage's top ten June flowers you must try! We did the *tough* research for you… ;)
10. Balanced by TWD
Balanced dried flower features a balanced ratio of THC to CBD. A little THC (7.00-13.00%) to get you feeling high, but enough CBD to balance it out and create a relaxing effect. It's a great choice if you want to start slow.
9. Orange Cookie Octane by Melt
A cross of the popular Orange Cookies and Hi-Octane. A craft indoor grown flower with amazing trichome coverage and a bright and beautiful bud structure. Full of sweet and fruity citrus notes with a hint of spice; hang dried and hand trimmed.
A cultivar with rich, velvety chocolate aromas, frosted trichomes and sprinkled with unique terpenes. Cocoa Bomba the perfect satisfaction for your sweet tooth. A tasty high THC option, that's on sale this week!
7. Jet Fuel Gelato by Pure Sunfarms
Jet Fuel Gelato is a potent, high-THC cultivar born in the Pacific Northwest, covered in a thick layer of frosty trichomes. A dairy and diesel-driven hybrid, it presents aromas of citrus and pepper from dominant terpenes caryophyllene, myrcene, and linalool. Its dense sage green buds show flashes of purple and coral. The flowers are hand harvested, dry trimmed, and packed fresh.
6. Legendary Larry Grind by Steel City Green
When it comes to pre-ground flower, you have to be careful! Some of the products are full of leaves and stems, which don't have any value, and can give you a headache. Steel City Green grinds, on the other hand, are high quality and a customer favourite!
Legendary Larry Grind by Steel City Green is made of whole flower milled to perfection for easy rolling, packing or vaping. With genetics from Larry OG and Larry OG F7, this cultivar produces large, dense trichome-glazed flowers. A gassy, earthy but sweet aroma is emitted from Legendary Larry. The pre-shredded (pre-ground) cannabis is packaged fresh, includes a Nitrogen infusion as well as a humidity pack, and never requires or undergoes irradiation or other microbial elimination processes.
Peanut Butter MAC is a cross between Peanut Butter Breath and Miracle Alien Cookies (MAC). Earthy and nutty, with a rich herbal overtone. This craft flower features a strong terpene profile packed full of limonene, pinene, caryophyllene, and humulene. Yum!
Flint & Embers' GSC Kush (GSC x Conspiracy Kush) immerses you in sweet notes of savoury chocolate and coffee with lingering aromas of crushed pepper. GSC Kush is hand-harvested, hang-dried, hand-trimmed and then carefully sorted and packed to capture the best bud. These chunky buds are deep olive-green and powdered in a thick layer of silvery-white crystals.
Blue Lime Pie is created through crossing the powerful Key Lime Pie X Blue Power strains. Love an insanely delicious flavor and a smooth high? Blue Lime Pie brings all of that and more. The taste is much like its name suggests – a sweet and creamy key lime pie accented by delicious blueberries. The aroma follows the same profile but with a pungent spicy turn that's accented by heavy kush and earth. The Blue Lime Pie high is just as delightful as its flavor, with euphoric and buzzing effects that will leave you feeling positively giddy before you finally fall into a deep and peaceful sleep.
Bacio Punch #8 is OGEN's is a cross of Gelato 41 and Purple Punch. This flower is wrapped in a heady aroma with a dominant diesel tang, followed by a sweet kiss of floral and sangria-like notes. Locally grown, small-batch buds are hand trimmed to preserve trichomes, and we use minimal packaging with a secondary seal to keep your bud fresher, longer.
1. Organic Maple Kush by The Green Organic Dutchman
We wouldn't be Canada's first organic cannabis store if we didn't rave about the awesomeness of organic products every chance we get!
Organic Maple Kush is a certified organic bud grown in living soil using natural sunlight and purified rainwater. A TGOD original cross between Koloa Sunrise and GG4, Organic Maple Kush gets its name from the Canadian organic maple syrup used to feed the soil it grows in, giving it a natural source of carbohydrates. Its dense round buds with dark purple and green leaves are covered in frosty-white trichomes and bright orange pistils. This beautiful bud brings with it a tropical, fruity, kush-like finish, a result of myrcene and farnescene terpenes that dominate this strain's aroma and flavour.